Charles J. Hamilton, Jr.
Senior Counsel
New York, NY
156 West 56th Street
New York, NY 10019
P 212.237.1189
P 212.237.1189

|

F 212.262.1215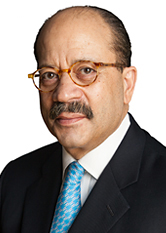 Experience
Charles J. Hamilton, Jr. advises clients in real estate development and finance, government finance, and corporate governance. He represents private real estate owners, builders and developers, entrepreneurial investors, investment banks and institutional lenders, and public and private real estate investment funds in complex acquisition, development, financing, tax credit, and joint venture transactions. He also represents media companies and government agencies, and counsels national not-for-profit organizations.
Prior to joining Windels Marx, Mr. Hamilton was a partner of Battle Fowler, LLP (1983-2000) and subsequently Paul, Hastings, Janofsky & Walker, LLP (2000-2010) following the merger of the firms in 2000.
Representative Matters
In notable transactions, Mr. Hamilton has (or is):
Represented the Federal Home Loan Bank of New York in its 15-year lease of an entire floor at 70 Hudson Street in Jersey City, NJ.
Representing The Olnick Organization in its redevelopment plan for Lenox Terrace in Harlem, New York.
Represented Boyce Technologies, Inc., a New York-based technology and manufacturing company, in the acquisition and financing of new executive offices and manufacturing facilities for the expansion of the company's operations at 47-22 Pearson Place, Long Island City (Queens) for approximately $20,000,000.
Represented SKB-Carbyne, LLC. in its acquisition and financing with Investcorp of a Class A office building located at 733 10th Street, N.W., Washington, D.C., for a purchase price of $180,000,000.
Represented the Metropolitan College of New York ("MCNY") in the acquisition from Phillips International (d/b/a "40 Rector Owner LLC") of a 110,000 square foot commercial condominium and development of a new student campus and executive offices at 40 Rector Street, New York, with the proceeds of $70 million tax-exempt "Build NYC" program bond financing and negotiation with Trinity Real Estate for acquisition and surrender of MCNY's existing lease of MCNY existing campus premises located at Canal and Varick Streets, (Tribeca) New York.
Representing the National Urban League, Inc. ("NUL"), in the acquisition of a 99-year ground lease of the existing 125th Street Garage site premises from the New York City Economic Development Corporation and the New York State Empire State Development Corp. and the development of the "Urban League Empowerment Center," a 300,000 square foot corporate headquarters complex, comprised of NUL executive and program offices and commercial office space, conference center, retail space and a museum of the American Civil Rights Movement.
Representing a developer in the ongoing $300 million revitalization of Harlem's New Victoria Theater Project as a mixed-use property, including a prominent hotel, market and affordable-rate housing, retail and cultural space.
Representing the owner of a Third Avenue commercial property portfolio adjacent to Gramercy Park (New York) for a purchase price of $78 million.
Representing a developer of a 500,000 square foot retail complex in Williamsburg, New York.
Representing the developer and owner of a 1700-unit residential complex in Harlem (New York) and redevelopment of the existing complex and development of additional residential apartment towers and adjacent commercial premises.
Representing a national, not-for-profit "supportive housing" developer and owner in the sale of its New York City Executive Offices and residential complex on the Upper West Side of Manhattan.
Represented the NAACP Legal Defense Fund, Inc. in the acquisition of a 100,000 sf commercial condominium located at 40 Rector Street in the downtown financial district, the buildout of the space for LDF's new corporate and legal services offices and the sale of LDF's prior corporate headquarters at 99 Hudson Street.
Represented national syndicators in the sale of limited partnership interests in SEC-registered real estate funds in excess of $750 million.
Represented national sponsors of public and private funds in excess of $1 billion for the acquisition of real estate assets which qualify for the federal Low-Income Housing Tax Credit and New Markets Tax Credit programs.
Represented the National Urban League, Inc. in the sale of 500 East 62nd Street, New York and the acquisition of a long-term leasehold at 120 Wall Street, New York.
Represented Equity Office Properties Trust in the $245 million purchase of the loan with Dai-Ichi Life Capital Properties, L.P. from Park Avenue Tower, 75 East 55th Street, New York.
Represented Millennium Partners, L.P. in the development of the Sony METREON Theater Complex in San Francisco, California.
Represented McFarlane Partners LLC in the purchase of a ground lessee interest in a New York City ground lease at Albee Square (Fulton Landing), Brooklyn, New York.
Represented Fannie Mae in American Communities Fund investments in real estate development joint venture investments of over $500 million in the New York City metropolitan area.
Represented Bessemer Trust Company in the Bessemer Trust Real Estate Investment Fund acquisition of residential and commercial real estate assets of $300 million.
Represented Casden Properties, Inc. in formation of a $1,050 million private multi-family real estate investment trust and sale of $218.5 million of cumulative preferred stock and warrants.
Served as outside General Counsel to Essence Communications, Inc., a magazine publishing, media and entertainment company in a $275 million merger and acquisition transaction with Time, Inc.
Served as outside General Counsel to Freedom National Bank of New York (1981 to 1990), which prior to its closure in 1989, was the largest African American owned and operated financial institution in the United States).
Served as outside General Counsel to the National Urban League, Inc. (1990-2009).
Served as Special Counsel to: the NAACP Legal Defense Fund (LDF); the Apollo Theater Foundation, Inc.; the Studio Museum in Harlem; and the Palau Mission to the United Nations.
Special Appointments
Impartial Arbitrator to the New York City Transit Authority (1981-1983) and Special Master pursuant to Consent Order for the United States District Court for the Eastern District of New York (1982-1983) in Connolly v. New York City Transit Authority, et al. (74 Civ. 1085) and Davis v. New York City Transit Authority, et al. (74 Civ. 730);
Special Fiscal Counsel to the New York City Board of Education (1988 to 1990) in connection with (i) the settlement of budget disputes between the Board of Education and the New York City Finance Department and (ii) the City's compliance under the New York State Stavisky-Goodman Law; and
Special Counsel to the New York City Health and Hospitals Corporation (HHC) (1990 to 1992) in connection with the negotiation of long term Affiliation Agreements between HHC and the New York City teaching hospitals and medical schools (Columbia University, New York University and Einstein Medical Center).
Awards & Recognition
Fellow of the American Bar Foundation
SuperLawyers New York Metro 2015, 2018-2022 - Real Estate
SuperLawyers New York Metro 2014-2016 and 2018 - Real Estate for Business and for Non-Profits. He was also recognized in the 2008-2009 editions.
Paul Hastings Janofsky & Walker, LLP Robert P. Hastings Partnership Award (2006) for Firm Leadership in Community Service.
National Urban League, Inc. Collins Award (2006) for outstanding leadership as an NUL Trustee and service as Outside General Counsel.
"America's Top Black Lawyers," Black Enterprise Magazine, November 2003.
W.E.B. DuBois Medal for Academic Leadership, Harvard University (2000).
"New York's Most Powerful Lawyers," New York Magazine, Fall 1999.
Board Memberships
Harlem School of the Arts, Inc. (Chair);
Environmental Defense Fund, Inc. (Chair, Audit Committee); and
Hudson River Foundation. (Chair, Audit Committee)
He has served as a member of the:
Phoenix House Foundation, Inc. Board of Directors;
Lawyers' Committee for Civil Rights Under Law;
National Urban League, Inc. Board of Trustees;
Granite Broadcasting Corporation, Inc. (NASDAQ symbol: "GBTVK") Board of Directors;
Ethical Culture Fieldston School (1997-2000) Board of Trustees;
Harvard College Board of Overseers' Visiting Committee to the College;
Public Policy Committee of the Board of Directors of The Advertising Council, Inc.; and
Board of Managers of the Harvard Club of New York City.
He has served as a trustee of Harvard Law School Association of New York City, Inc. and the New York Interest on Lawyer Account Fund of the State of New York (lOLA) (Appointment by Governor Mario M. Cuomo; 1984-1987).
Mr. Hamilton is a member of the American Law Institute (ALI), the American Bar Association, the National Bar Association, and the Association of the Bar of the City of New York. He has served on the faculty of the Practicing Law Institute's (PLI) program in Commercial Real Estate Financing.
Newsroom
+
Events
+
Practices
Education
J.D., Harvard Law School, 1975
M.C.P., City Planning, with honors, Massachusetts Institute of Technology, 1975
B.A., cum laude, Harvard College, 1969
Admissions
New York
United States District Court for the Southern District of New York