Daily News Quotes Charles Hamilton After NYS Panel Approves National Urban League's Harlem Project
Tuesday, November 19, 2013
The November 20th edition of the Daily News quoted Charles Hamilton, Jr. (Senior Counsel, New York) after New York States' Public Authorities Control Board unanimously approved the National Urban League's $225 million plan for a headquarters and civil rights museum on 125th Street in Harlem.
Charles, who serves as counsel for the National Urban League, said:
"We're excited about moving forward. There are many challenges ahead with developing the largest development of this type in Harlem."
Read "National Urban League project for 125th St. is approved by state panel."
---
The project recently received backing from Harlem clergymen and the Empire State Development Corp., on which the November 18th Daily News quoted Charles:
"There's support in Albany for the project. People in the legislature know how important this project is to Harlem. It addresses so many of the crying needs in that community."
"This is our home. It's going to be our home."
Read "Harlem clergy to National Urban League: Build your headquarters here."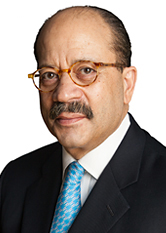 Charles J. Hamilton, Jr.
Senior Counsel
Download Vcard