Charles Hamilton Quoted in NY Times on Harlem School of the Arts
Tuesday, December 6, 2011
The "Arts" section of the December 6, 2011 edition of The New York Times included a cover story entitled "At Harlem Arts School, New Chief Hits Her Stride." The article profiles the President and Chief Executive of the Harlem School of the Arts and her success in funding the school.

Charles Hamilton (Senior Counsel, New York), who serves as Chairman of the Board of the Harlem School of the Arts, was quoted on its impact in student's lives and the importance of Yvette Campbell's leadership:
"We will not allow this institution to fail; it's far too important. This school saves lives, period. It produces extraordinary young people who go off in life with an appreciation for life and an appreciation of themselves. There aren't a lot of other institutions in our community that do that. To think that poor children are going to have a full education experience without this exposure is a mistake. We're thinking about the time that children are not in school, and just watching TV or playing video games is not an option." Charles said of Ms. Campbell: "What we found simply was a diamond. She has this energy, this spirit, this motion. She connects with parents and with students. And she's not afraid of a spreadsheet."
Charles has a long history of service to community organizations and corporate boards, including:
Environmental Defense Fund, Inc.
Phoenix House Foundation, Inc.
Harlem School of the Arts, Inc.
Lawyers' Committee for Civil Rights Under Law
National Urban League, Inc.
Granite Broadcasting Corporation, Inc.
Ethical Culture Fieldston School.
Learn more about Charles' practice and career accomplishments.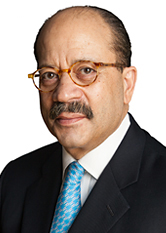 Charles J. Hamilton, Jr.
Senior Counsel
Download Vcard