Tony Coscia Named to NJBIZ Commercial Real Estate Power 50, 2020 Edition
Monday, November 9, 2020
NJBIZ announced its 2020 survey of the "Commercial Real Estate Power 50," which analyzes the landscape of developments in New Jersey and those at the forefront of progress. Among those featured is Partner Tony Coscia at #4:
"Coscia, a partner at Windels Marx Lane & Mittendorf, is the chairman of Amtrak and one of three trustees of the Gateway Development Program Corp., the nonprofit managing the estimated $20 billion bridge and tunnel undertaking above and below the Hudson River. Gateway's been in headlines and seemingly on hold for some time now, though 2020 brought some good news its way with the July approval of an agreement to work on the cranky 110-year-old Portal Bridge beginning spring 2021. No news yet on the 108-year-old Hudson River rail tunnels, but for businesses that opt back into their skyscraper offices post-pandemic, Gateway remains an important project. In addition, amid the pandemic's first wave, Coscia was named alongside 20 others to Gov. Phil Murphy's Restart and Recovery Commission. Coscia's influence extends into public finance as well. In September, the firm announced that Coscia, alongside partner Frank Quinn, John Bitar, and a team of others, closed a $1 billion bond deal with health care giant Hackensack Meridian Health. On the personal side, one insider noted, "For a totally powerful lawyer in New Jersey and beyond, Tony Coscia has this amazing knack for not acquiring enemies. The evidence of that? He might be the only Obama appointee who has remained in his position through the entire Trump term. Now that probably puts a bullseye on him, but Tony, for a master of the universe, has a unique ability to not make enemies."
Read the article (subscription may apply).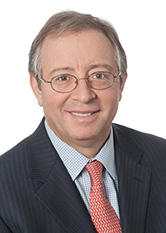 Anthony R. Coscia
Partner
Download Vcard