Sanjay Mody Featured in Crain's NY Business "Infrastructure Roundtable"
Wednesday, October 3, 2018
The October 1, 2018 edition of Crain's NY Business featured an infrastructure roundtable, which assembled leading voices in New York on a range of pressing issues.
Sanjay Mody, Special Counsel and member of the Infrastructure Development and Finance Practice Group, contributed extensively to the conversation.
Among many questions posed to the panel, Crain's asked: What can the public sector do to facilitate more private investment in our infrastructure?
Sanjay: "Rebuilding infrastructure should not be a public vs. private zero sum game. Properly structured hybrid public-private approaches take advantage of available private capital, transfer risks from the public to the private sector, and capitalize on private sector innovations. New York and New Jersey should enact P3 enabling legislation. At the same time, the public sector must continue to play a leading role; private investment alone won't solve our problems."
Sanjay's practice spans the areas of infrastructure, real estate, government and finance. He advises public and private sector clients on a range of matters, focusing on complex transactions with a governmental dimension.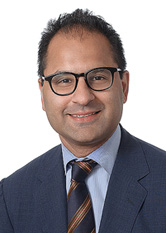 Sanjay Mody
Partner
Download Vcard