COVID-19 - The CARES Act: The Main Street Lending Program
Thursday, April 16, 2020
By Michael J. Clain, Partner
---
The Coronavirus Aid, Relief and Economic Security Act (the "CARES Act"), signed into law on March 27, 2020, established multiple financial assistance programs to support businesses and governmental entities affected by the COVID-19 pandemic. These programs take several forms, including direct lending through eligible institutions, credit support, providing liquidity to the capital markets and other investments.
The first direct loan program, the Paycheck Protection Program ("PPP"), which authorizes up to $349 billion in forgivable loans to small businesses and non-profits was launched on April 3rd. That program is aimed at organizations with 500 or fewer employees and, as the name suggests, it is intended primarily to help borrowers pay their employees during the COVID-19 crisis. Information about the program is available on our COVID-19 Resources page.
On April 9th the Board of Governors of the Federal Reserve System (the "Board") issued interim guidance regarding its second direct loan program, the Main Street Lending Program. The program authorizes Federal Reserve Banks to purchase participations of up to $600 billion in eligible loans to companies employing up to 10,000 workers or with revenues of less than $2.5 billion. The program hasn't been finalized yet – the comment period ends on April 16th – but the interim guidance provides sufficient detail to start considering how to best engage with it. We expect that additional information, including procedures for applications, will be made available shortly after the comment period ends.
Overview: The Main Street Lending Program consists of two separate facilities: the Main Street New Loan Facility (the "New Loan Facility") and the Main Street Expanded Loan Facility (the "Expanded Loan Facility"). Under the New Loan Facility a Federal Reserve Bank will commit to lend to a special purpose vehicle (an "SPV"), which will purchase 95% participations in new eligible loans. Under the Expanded Loan Facility the SPV will purchase 95% participations in the upsized tranche of existing eligible loans (we'll refer to loans in which an SPV has purchased a participation under the New Loan Facility or the Expanded Loan Facility (collectively, the "Loan Facilities") as "Main Street Loans"). The combined size of the Loan Facilities is $600 billion. We've seen no indication of their relative size.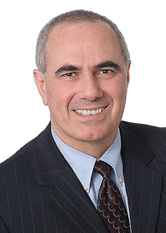 Michael J. Clain
Partner
Download Vcard