NJBiz Releases Annual Real Estate Power 50 with Tony Coscia in Top 10
Monday, November 16, 2015
On November 16, 2015, NJBiz released its annual ranking of 50 real estate industry leaders.
The "Power 50: Real Estate" list is considered to be a definitive analysis of New Jersey's 'most influential people in the real estate industry,' and we're pleased that our Partner, Tony Coscia, is among the top 10.
Listed at #9 — which is up from #18 in 2014 and #40 in 2013 — NJBiz said 'the praise was universal with Coscia':
"When you want to get something done: Turnpike Authority, Port Authority -- when you want to get something done within the state, you go to Tony," one insider said. The reason, our insider said, was easy to pinpoint. "I think he's respected on both sides of the aisle," the person said.
"There is something sustaining in that. "You don't get any more conservative Republican than the Hanson family and on a big recent project, they hired Tony Coscia," the insider continued. "That tells you everything you need to know."
That ability may soon be needed, said another. "There is going to be a solution to the tunnel project into New York City," the source said. Coscia is the one to make it happen, many feel. "He is the intelligent guy in the room to get this done," one insider said. "He's been doing this transit stuff for 20 years. He's the guy. You're talking about the biggest infrastructure project in the history of the United States, 20 billion bucks, and he's going to be the key guy on it."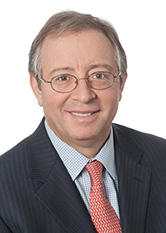 Anthony R. Coscia
Partner
Download Vcard