NJBIZ Announces Commercial Real Estate Power 50, Tony Coscia Named
Tuesday, November 12, 2019
NJBIZ announced its survey of the "Commercial Real Estate Power 50," which analyzes the landscape of developments in New Jersey and those at the forefront of progress. Among the 50 featured is Partner Tony Coscia:
"If the Gateway Project ever gets off the ground (and under the river), proponents estimate it will double rail transit capacity between New Jersey and New York. Tony Coscia, a partner at Windels Marx Lane & Mittendorf with a focus on corporate litigation and transactional law, was one of the Gateway Development Corp.'s trustees, established to oversee the project before the recent creation of the Gateway Development Commission, of which he is one of seven board members. "They are seasoned transportation, advocacy and government professionals who will be tremendously helpful in finally replacing a more than century-old system with 21st Century rail transportation linking New York and New Jersey," said Frank Sacr, the interim executive director of the development corporation in a statement in October. Coscia has been a power player in the region – and the nation's – transportation system since becoming chairman of Amtrak in 2013. He also chairs its audits and finance committee."
Tony has routinely appeared on NJBIZ's survey of real estate leaders since 2011.
Read the article (subscription may apply).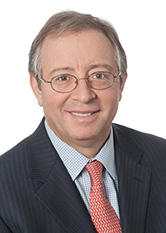 Anthony R. Coscia
Partner
Download Vcard