Wayne Cook Talks Hotels, Airbnb with Bisnow
Thursday, April 21, 2016
On April 19, Bisnow published an article entitled, "Jury Still Out When It Comes to Airbnb's Impact on Hotels." Partner, Wayne Cook, was among several who contributed their insights to the article in advance of an April 21st panel for their 6th Annual Hotel Investment and Development Forum.
Bisnow asked if there is substance to the notion that Airbnb is the cause of lower revenues at NYC hotels. Wayne offered:
"There are so many nebulous economic factors in play, it makes it easy to argue both sides of the coin."
"Someone who's using Airbnb is not necessarily someone who'd go out and book a room in Midtown Manhattan otherwise."
"There's roughly 13-15,000 rooms that'll be coming online over the next few years," he says. "That's an increase of roughly 20%. When that happens, that'll be the true test."
Bisnow hosted its 6th Annual Hotel and Investment Forum on April 21st, which explored acquisitions, development, branding and related topics. Wayne moderated the panel focused on acquisitions and development.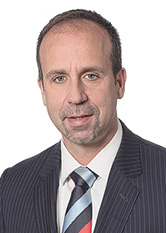 Wayne S. Cook, Jr.
Partner
Download Vcard