Wayne Cook on Emerging Nonbank Lenders in Law360
Thursday, April 28, 2016
Wayne Cook (Partner, New York) was quoted in an article published by Law360 on April 25th entitled "CMBS Borrowers Waiting For Nonbank Lenders To Emerge." The article continues a previously reported expectation that, as a result of the 2008 market crash, new regulations on CMBS loans are anticipated to make it more difficult for borrowers to finance with big banks. As those banks continue to pull back, private lenders will be presented with a unique opportunity to obtain more refinancing work.
Wayne offered:
"It's kind of odd. At the end of 2015, law firms and lenders, private equity funds... were really ramped up."
"The first quarter of 2016 has surprised a lot of us... January and February were lost months in real estate finance."
Read the full article. (subscription required)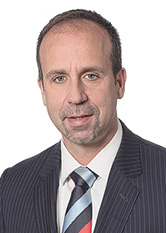 Wayne S. Cook, Jr.
Partner
Download Vcard