Wayne Cook Discusses CMBS Loans with Law360
Thursday, November 10, 2016
Wayne Cook (Partner, New York Office) was quoted in an article published by Law360 titled "CMBS Loans In Hard-Hit Detroit, Cleveland, Take Creativity." The article addresses aspects of CMBS loans in distressed markets where loans are coming due and having difficulty refinancing. Wayne added:
"[I] recently worked on a CMBS deal for a multifamily property in nearby Columbus, Ohio, in which a life insurance company also provided a loan to refinance the CMBS debt. To the extent that borrowers can get nonbanks like life companies to take their CMBS debt, that's on the one hand a welcome relief. But one critical issue is that CMBS is typically non-recourse debt, while the refinanced debt may be full recourse, so the borrower takes on more risk and liability with such debt. Borrowers may also have to put more liquidity into the new loan than they might have had to in other markets. Or they may pay more fees, or get less favorable terms. And lenders may also require borrowers in markets like Cleveland and Detroit to put up a reserve account that shows funds available should tenant improvements be needed."
"The metrics show a little bit of an uptick in special servicing on the CMBS side... I think we'll see more in 2017. There's a huge flood of retail loans coming due in 2017."
Read the Law360 article (subscription applies).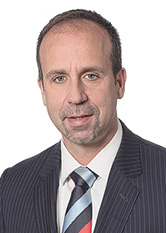 Wayne S. Cook, Jr.
Partner
Download Vcard