NJBiz Releases "Power 50: Real Estate" List, Pegs Tony Coscia Among Top 20
Sunday, November 30, 2014
On November 10, 2014, NJBiz released its annual look at the leading figures in New Jersey real estate.
The "Power 50: Real Estate" list is considered to be a definitive analysis of New Jersey's 'most influential people in the real estate industry,' and we're pleased that our Partner, Tony Coscia, is among the top 20.
Listed at #18, and up from #40 in 2013, NJBiz said of Tony:
Several observers think we goofed last year with Coscia's ranking, which they think needed to move up big. Point taken. "Put aside his legal work for a minute -- he is going to be a key player for New Jersey. And he's so prominent because he has a national portfolio (as the chair of Amtrak)," the person said. "We are at a crisis stage in New Jersey in transportation, and he is the guy in the room."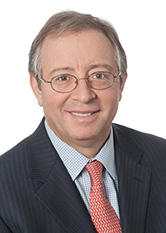 Anthony R. Coscia
Partner
Download Vcard