Pat Russo Promoted to Partner
Wednesday, April 27, 2016
Congratulations to Pasqualino "Pat" Russo on his promotion to Partner.
Since joining the Firm in 2012, Pat has represented and counseled a diverse array of clients in the practice group in the areas of ground transportation regulation and licensing, compliance, regulatory reforms, accessibility, medallion market valuation, corporate investigations, litigation, employment matters, tax matters, due diligence, and government procurement. In his new role, Pat will continue his representation of transportation clients, and expand his work in the areas of due diligence, compliance and corporate investigations.

"Pat has and continues to play a pivotal role in our Transportation Practice Group, which he has helped us grow and manage over the last several years," said Matthew W. Daus, Partner and Chair of the Transportation Practice Group. "He is a dedicated member of our firm, whose diligence, integrity, work ethic and professionalism are exemplary, and he is truly a 'one-of-a-kind' colleague who I am proud to now officially call my law partner."
Pat was formerly the Chief Judge of the NYC Taxi and Limousine Commission (the "TLC") where he oversaw more than 80 administrative law judges in 4 tribunal locations throughout New York City. In overseeing the TLC tribunal, Pat handled adjudications and appeals for consumer complaints, applicant-driver fitness issues, dispatch base violations, and illegal operation of for-hire service. Immediately prior to joining the Firm, Pat served as an Inspector General for the NYC Department of Investigation, where he was responsible for investigations of criminal wrongdoing, vendor-contractor violations, conflicts-of-interest, and whistleblower complaints. In addition, Pat conducted vendor due diligence, procurement oversight, and due diligence for City Council member items. Pat spearheaded several criminal investigation involving the NYC Council members resulting in the arrests and convictions of elected officials, public employees, and City contractors.

Since 2013, Pat has been a member of the MTA Inspector General Management Advisory Board. In addition, Pat is an adjunct professor in the MPA program at John Jay College of Criminal Justice.

Pat earned a B.A. in History cum laude from Brooklyn College of the City University of New York (1990) and earned a J.D. from Brooklyn Law School (1993), where he was a member of the Journal of Law and Public Policy.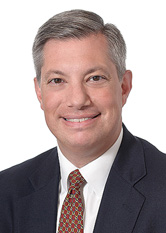 Pasqualino Russo
Partner
Download Vcard