Tony Coscia Quoted on Groundbreaking of NY-NJ Rail Tunnel Project
Tuesday, September 24, 2013
Several media outlets quoted Tony Coscia (Partner, New Brunswick) regarding new construction of a concrete casing at the Hudson Yards Development, the first step towards building two potential flood-resistant Hudson River rail tunnels linking New York's Penn Station and New Jersey.
Tony, Amtrak Chairman, was quoted as saying the following:
CBS Local - "The tunnels would improve the reliability, capacity and resiliency of Amtrak and New Jersey Transit" (September 23).
GLNews New York - "There was an actual piece of the property that was necessary here to preserve the optimal alignment so that we can assure that we can meet the needs of the next generation of passenger rail service to New York City" (September 23).
Railway Track & Structures - "The value of the work on this concrete casing cannot be underestimated, as it preserves a possible pathway for new tunnels designed to increase the reliability and capacity for Amtrak and operations and will step up the resiliency of the rail system against severe weather events like Super Storm Sandy" (September 24).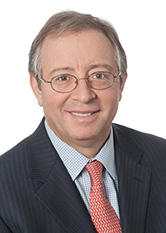 Anthony R. Coscia
Partner
Download Vcard