Tony Coscia Discusses Amtrak Funding in Crain's Interview
Wednesday, July 10, 2013
Crain's New York Business interviewed Tony Coscia (Partner, New Brunswick) for a July 7th article entitled "Amtrak Chairman Anthony Coscia trains sights on funding". Tony discussed the funding of passenger rail initiatives, particularly the Hudson River "tunnel boxes". Some highlights:
On Congressional funding: "We don't spend a whole lot of time worrying about larger political issues outside our control. If we make the company as strong as possible, and if we show results and improvements on what we do, people do give us resources, like the tunnel box. If we invest it wisely, if we build projects that are on time and on budget, we're likely to create a level of confidence in us that we think will generate a willingness to provide additional resources so that we continue to build on that."
On the late Senator Frank Lautenberg: "He was a big supporter of passenger rail before it was fashionable. We now have a lot of people in Congress who are willing to pick up where he left off. He built a huge reservoir of support, and I think those people will honor his legacy by moving it forward."
---
Tony was elected Amtrak's Chairman in March 2013 and is former Chairman of the Port Authority of New York and New Jersey.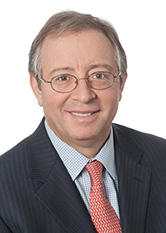 Anthony R. Coscia
Partner
Download Vcard