NJBiz Profiles Tony Coscia on Bi-Partisan Reputation, Work Ethic
Monday, March 26, 2012
A March 26th article in NJBiz entitled "Keeping it clean: Reputation makes Coscia a top choice for high-profile posts" featured Tony Coscia (Partner, New Brunswick) as a 'go-to person for both Democrats and Republicans in the partisan world of New Jersey politics.'

The article included insights from prominent figures across the business, governmental and legal spectrum, who have first-hand experience with Tony throughout his academic and professional career.

Tony was also quoted in the article. Some highlights:
On his work: "I'm a bit of a deal junkie ... I definitely get energized over the idea of trying to find a way to get something accomplished and get transactions completed."
On Windels Marx: "... my firm, it's sort of like a part of my family ... I don't view it as working for someone ... I view it as something I've been part of."
---
Read the full article or watch the video.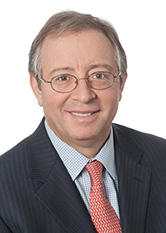 Anthony R. Coscia
Partner
Download Vcard