Tom Rohan Joins as Special Counsel
Tuesday, March 31, 2015
We are pleased to announce that Thomas P. Rohan has joined the firm as Special Counsel, resident in both the Madison, NJ and New York, NY offices.
Robert J. Luddy, Managing Partner of Windels Marx, said:
"Tom has formidable experience in leasing - both in private practice and as in-house counsel. This 360° approach will allow our clients to meet and capitalize on marketplace opportunities."
Tom brings with him extensive experience in the representation of owners, managers and tenants in all aspects of their office, retail, medical, warehouse, industrial, research and development and other specialized leasing transactions, including the drafting and negotiation of all leasing and related documentation, the resolution of lease disputes and creating solutions to problems arising from the day-to-day operation of their real estate.
Prior to joining Windels Marx, Tom served as outside real estate counsel to several well-known global and national organizations, working as part of their corporate real estate team negotiating and documenting their nationwide leasing and subleasing transactions, executing their real estate portfolio strategies, supervising acquisitions and dispositions of owned real estate, and negotiating all related real estate agreements.
He also has significant experience representing clients in the acquisition and disposition of industrial, retail, flex and office properties located in New Jersey.
Tom earned his J.D. from St. John's University School of Law in 1983, and his B.S. from Marquette University in 1979.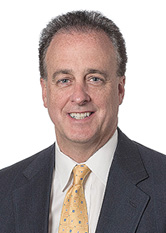 Thomas P. Rohan
Special Counsel
Download Vcard