Lynn Weinig Joins as Special Counsel
Thursday, October 19, 2017
We are pleased to announce that Lynn E. Weinig has joined Windels Marx as Special Counsel.
Lynn focuses on Real Estate and Corporate related matters and advises clients on a broad spectrum of areas, including general and commercial matters, the public sector and real estate.
Prior to joining the firm, Lynn practiced extensively in the field of real estate law in both commercial and residential real estate transactions, including representation of real estate associations (including not for profit, condominiums and cooperatives). She is also experienced in public sector law where she has been involved in legal management of complex public sector projects involving infrastructure, regulatory compliance, land use, environmental issues, construction, contracting, and risk management. She has been involved in legislative matters, board representation, policy development, program planning and implementation, transactions, real property management and disposition, bidding and procurement procedures, as well as general litigation.
Lynn has also been involved in contracting, permitting and agency proceedings with Federal, State and County regulatory agencies, including the Department of Environmental Conservation, Department of Health (State and County), Public Service Commission, New York State Environmental Facilities Corporation, United States Environmental Protection Agency, and New York City Department of Environmental Protection.

She received her J.D., cum laude, from Pace University School of Law (1989) and her B.S. from Ithaca College (1985).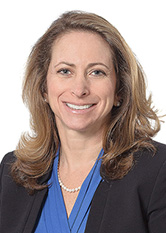 Lynn E. Weinig
Special Counsel
Download Vcard