10 Years After Koehler, NY Still Good For Judgment Creditors by Rob Malatak for Law360
Tuesday, March 26, 2019
The following article was published on March 25, 2019 via Law360 and appears here with their express permission.
---
Although it has been nearly a decade since the New York Court of Appeals issued its decision in Koehler v. Bank of Bermuda Ltd.,[1] making New York an attractive forum for judgment creditors to execute on judgment debtors' assets held by themselves or others in foreign jurisdictions, the decision stands firm much to the disappointment of out-of-state competing creditors, as one such creditor recently experienced in Kassover v. Prism Ventures Partners LLC et al.[2]
In Kassover, a judgment was entered in the plaintiffs' (together, "Kassover") favor against a certain defendant, GCC Realty Company LLC, in October 2009, but given GCC's successive bankruptcy filings, Kassover was unable to begin judgment enforcement efforts until early 2017. By that time, however, GCC had already moved its personal property, consisting of its interests in numerous limited liability companies, to Florida.
To complicate matters, a certain Florida-based creditor of GCC, Allerand 675 Company LLC, perfected its own judgment lien against the LLC interests sometime after their arrival in Florida, based upon a judgment awarded in its favor by a Florida state court. Thus, Kassover was in a seemingly difficult situation — after 12 years of litigation that resulted in a handsome judgment, the only assets against which he could recover were now located in a foreign jurisdiction and already subject to a competing creditor's perfected Florida judgment lien.
Relying on Koehler, Kassover asserted his rights in New York state court by moving for an order pursuant to Civil Practice Law and Rules § 5225, directing (1) GCC to turnover the LLC interests to a New York City sheriff, and (2) the sheriff to sell the LLC interests at auction and distribute the sale proceeds to first pay Kassover's judgment.
The court granted Kassover's motion over the objections of Allerand, who intervened in the case in an effort to protect its lien interests. In granting the motion, the court reasoned that CPLR § 5225(a) permits a court, "[u]pon motion of the judgment creditor," to enter an order directing the judgment debtor "to deliver … personal property, or so much of it as is of sufficient value to satisfy the judgment, to a designated sheriff."[3] "To obtain a turnover order, [however, the judgment creditor] must establish the existence of personal jurisdiction over the [judgment debtor]."[4]
The court concluded that it had jurisdiction over GCC, and although Allerand argued that the LLC interests, "GCC's 'principal assets,' are located in Florida," the court dismissed the argument, quoting the New York Court of Appeals' prior holding that '"CPLR Article 52 contains no express territorial limitation.'"[5] "Thus, a New York court may order a defendant to turnover property to a judgment creditor even if the property is located out of state."[6]
After concluding that it was authorized to direct GCC to turnover the LLC interests to a New York sheriff, the court undertook to determine the lien priority between Kassover and Allerand. To do so, the court first had to determine whether New York or Florida's lien laws applied. After performing a choice of law analysis consistent with, inter alia, the New York Court of Appeals decision in Matter of Istim Inc. v. Chemical Bank,[7] which it resolved in favor of New York, the court turned back to Article 52 to determine whether Kassover or Allerand had priority in the LLC interests.[8]
On this point, Kassover argued that he should have priority over Allerand upon the entry of the turnover order, and Allerand argued that it should have priority over Kassover because (1) it had already perfected its own Florida state court-issued judgment in Florida against the LLC interests, and (2) its judgment is entitled to full faith and credit by the court under the full faith and credit clause of the United States Constitution.[9]
The court, however, declined to find that Kassover had priority at that moment because (1) Kassover's "2011 restraining notice [did] not confer priority", and (2) Kassover had not yet issued an execution to the sheriff.[10]
The court also declined to find that Allerand had priority because "Allerand ha[d] not sought enforcement/domestication of its [j]udgment in New York, but cited the Full Faith and Credit Clause to support its assertion that [its] [j]udgment has priority of [Kassover's] [j]udgment."[11] The court continued that "[u]nder the Full Faith and Credit Clause, New York courts must 'afford the judgment of a sister State the same credit, validity, and effect that it would have in the State that rendered it.'"[12] "However, absent domestication … by Allerand [of its] [j]udgment …, [the court] decline[d] to find that … Allerand's [Florida judgment] has priority in this action."[13] Whereupon, the court entered the turnover order in Kassover's favor. On appeal, the Appellate Division, First Department, unanimously affirmed the decision.
As an aside, although the court correctly determined that Kassover did not then have priority for the reasons noted, priority is also established under CPLR § 5234(c), at the time an order directing the turnover of property is entered or filed.[14] Thus, it would have been contrary to New York law, and tantamount to an advisory opinion, if the court at the time it was drafting the turnover order determined that Kassover had priority over Allerand. That said, upon entry of the turnover order, Kassover secured a lien against GCC's personal property (the LLC interests) that was senior to all judgment creditors who did not previously perfect their lien under New York law, including Allerand.
Conclusion
Depending on whether you are a judgment creditor or judgment debtor, New York, since Koehler, remains either a favorable or unfavorable forum. Moreover, regardless of whether you are a New York or non-New York practicing attorney, having an understanding of Article 52 of the CPLR as it relates to Koehler might help your client either obtain a recovery on its hard fought for judgment, or avoid being surprised at having its own out-of-state judgment lien evaporate as the property travels to New York.
---
Disclosure: The author of this article was the partner-in-charge of the Kassover case.
[1] Koehler v. Bank of Bermuda Ltd. , 12 N.Y.3d 533 (2009)
[2] Kassover v. Prism Ventures Partners LLC, et al. , 2017 N.Y. Misc. LEXIS 3438, 2017 NY Slip Op 31933(U) (Sup. Ct. New York County 2017), aff'd 2019 N.Y. App. Div. LEXIS 1176, 2019 NY Slip Op 01175 (1st Dep't Feb. 19, 2019).
[3] 2017 N.Y. Misc. LEXIS 3438, at *9.
[4] Id. at *10.
[5] Id., quoting, Koehler, 12 N.Y.3d at 539.
[6] Id. at *11.
[7] Matter of Istim Inc. v. Chemical Bank , 78 N.Y.2d 342 (1991)
[8] Id. at *11-13.
[9] Id. at *13-14.
[10] Id. at *16-17.
[11] Id. at *17.
[12] Id., quoting, Morin Boats v. Acierno , 150 A.D.3d 844, 844 (2d Dep't 2017).
[13] Id. at *17-19.
[14] See CPLR § 5234(c) ("Where personal property or debt has been ordered delivered … and the order is filed before the property or debt is levied upon, the rights of the judgment creditor who secured the order are superior to those of the judgment creditor entitled to the proceeds of the levy.") (emphasis added); 2 Weinstein, Korn & Miller CPLR Manual § 27.21[b][2][ii][C] (2018) ("[P]riority among the non-execution creditors is based entirely upon the temporal order which their orders are filed.").
Read more at: https://www.law360.com/articles/1141721?copied=1
---
CONTACT
Please do not hesitate to direct questions or comments to Robert J. Malatak.
View PDF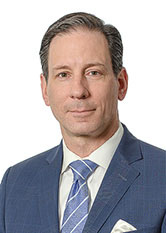 Robert J. Malatak
Partner
Download Vcard