Gary Moriwaki Honored By Ministry of Foreign Affairs of Japan
Tuesday, August 12, 2014
Gary Moriwaki (Partner, New York) was honored by the Ministry of Foreign Affairs of Japan with a Foreign Affairs' Commendation for his tenure as President of the Japanese American Association of New York.
The Consulate General of Japan in New York issued a press release stating the following:
Coordinated with Japanese-based NGOs for the creation of a major relief fund for survivors after the devastating Great East Japan Earthquake of March, 2011.
Guided JAA's collection of funds to help eastern coastal communities struck by Hurricane Sandy in October of 2012, when he again worked with various volunteer organizations on the ground, and visited the stricken areas of Japan several times since the disaster and has made significant contributions to relations between Japan and the U.S. by providing active leadership of JAA in such mutual exchanges. He continues to work on encouraging friendships between the two countries through JAA, especially with survivors in the Tohoku region. This summer, he helped organize a goodwill trip which brought American high school baseball players to Iwate Prefecture to play baseball with youth in the area."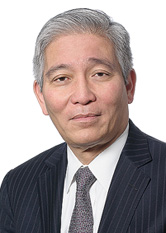 Gary S. Moriwaki
Partner
Download Vcard