Patrick Deyhle Promoted to Partner
Thursday, March 16, 2017
Windels Marx is pleased to announce the promotion of Patrick M. Deyhle to Partner. Patrick is resident in our New Brunswick office and is licensed to practice in New Jersey, New York, Maryland, the District of Columbia and the United States District Court for the District of New Jersey.
Patrick's clients include banks, financial institutions and other non-traditional real estate lenders. He also has experience representing developers, owners and investors in the areas of real estate financing, development, acquisitions, dispositions, and commercial leasing.
His practice focuses primarily on representing lenders in commercial real estate financing transactions, including acquisition, construction and permanent mortgage financing, as well representing lenders in commercial and corporate financing matters. Additionally, Patrick has experience in working out distressed loans, and documenting both restructuring arrangements and loan modifications.
Patrick earned his J.D. from American University Washington College of Law (2007) and his B.S. in Applied Economics and Management from Cornell University (2004). He joined Windels Marx shortly after graduating from law school.
Media coverage included: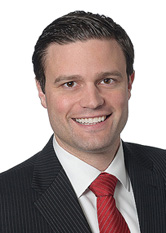 Patrick M. Deyhle
Partner
Download Vcard